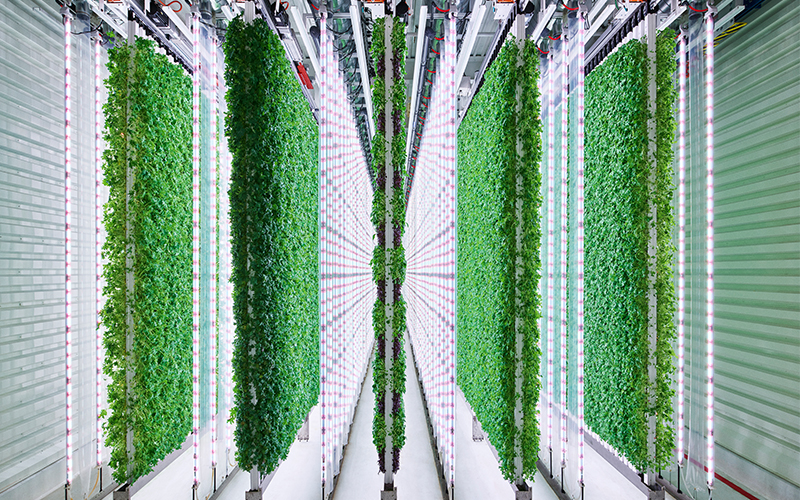 SOUTH‌ ‌SAN‌ ‌FRANCISCO,‌ ‌Calif.,‌ ‌October 14,‌ ‌2020‌ ‌–‌ ‌Plenty‌ ‌Unlimited‌ ‌Inc.‌, ‌today‌ ‌announced‌ it has secured a $140 million USD Series D round, led by existing investor Softbank Vision Fund 1 and including new investor Driscoll's, the world's leader in fresh berries. The investment will be used to fuel Plenty's growth, including the execution of recently announced commercial collaborations with Albertsons and Driscoll's, and the development of its new farm in Compton, California. To date, Plenty has raised over $500 million, making it the leader in sustainable, indoor vertical farming.

"In just 30 years time, the world will need 70% more food than we currently produce, requiring more efficient use of land and water," said Jeff Housenbold, Managing Partner at Softbank Investment Advisers. "Without innovation in agriculture, this demand will be impossible to meet. We believe Plenty is transforming the way food is made and are pleased to continue supporting their mission to build sustainable, intelligent farms that deliver healthy, safe produce with a focus on premium flavor." In 2020, Plenty announced significant collaborations including a joint development agreement with Driscoll's to grow Driscoll's proprietary flavorful strawberries year-round in Plenty's vertical indoor farm, and an agreement with Albertsons‌ ‌to bring Plenty greens to 431 of its California stores.

"We looked at other vertical farms,and Plenty's technology was one of the most compelling systems we'd seen for growing berries," said J. Miles Reiter, Driscoll's Chairman and CEO. "We got to know Plenty while working on a joint development agreement to grow strawberries. We were so impressed with their technology, we decided to invest."
Plenty's‌ ‌farm‌ ‌delivers‌ ‌produce‌ ‌year-round‌ ‌that‌ ‌tastes‌ ‌like‌ ‌it‌ ‌was‌ picked‌ ‌fresh‌ ‌from‌ ‌the‌ ‌garden.‌ ‌Using ‌data‌ ‌analytics,‌ ‌machine‌ ‌learning‌ ‌and‌ ‌customized‌ ‌lighting, Plenty is able to iterate at unprecedented speed, leveraging the more than 200 years worth of growing data the platform generates annually. This advanced agri-food platform has allowed Plenty to show over 700% yield improvement in leafy greens in the last 24 months, while maintaining its unique flavor and quality.

"Plenty has built an intelligent, scalable agriculture platform that delivers unprecedented flavor, purity, consistency and yield," said Matt Barnard, co-founder and CEO at Plenty. "The recent disruptions in the global supply chain caused by the West Coast wildfires and COVID-19 have highlighted how quickly our access to quality produce can be thwarted. Plenty's controlled and resilient farms and local distribution made it easy for us to scale quickly, even during the pandemic, demonstrating that our indoor, vertical farm flourishes under environmental pressures and delivers delicious greens along with the sales that come with it." Plenty's vertical design produces up to 400 times the yield of traditional field farming, producing more food with less water and land. The‌ South ‌San Francisco ‌Plenty‌ ‌farm‌ uses 100% renewable energy. Plenty's vertical design can grow 1500 acres in a building the size of a big box grocery store while saving over a million gallons of water per week.
About‌ ‌Plenty‌ ‌

Plenty‌ ‌is‌ ‌an‌ ‌American‌ ‌farming‌ ‌technology‌ ‌company‌ ‌that‌ ‌frees‌ ‌agriculture‌ ‌from‌ ‌the‌ ‌constraints‌ ‌of‌ ‌weather,‌ ‌seasons,‌ ‌time,‌ ‌distance,‌ ‌pests,‌ ‌natural‌ ‌disasters,‌ ‌and‌ ‌climate.‌ ‌The‌ ‌company's‌ ‌plant‌ ‌scientists,‌ ‌engineers‌ ‌and‌ ‌farmers‌ ‌have‌ ‌developed‌ its ‌indoor‌ ‌vertical‌ ‌farming‌ ‌technology‌ ‌to‌ ‌manufacture‌ ‌nutrient-rich‌ ‌plants‌ ‌with‌ ‌extraordinary‌ ‌flavor.‌ ‌Plenty‌ ‌farms‌ ‌deliver‌ ‌produce‌ ‌with‌ ‌zero‌ ‌pesticides,‌ ‌and‌ ‌are‌ ‌designed‌ ‌to‌ ‌use‌ ‌less‌ ‌than‌ ‌one‌ ‌percent‌ ‌the‌ ‌space‌ ‌of‌ ‌conventional‌ ‌agriculture‌ ‌and‌ less than ‌five‌ ‌percent‌ of the ‌water.‌ ‌‌Plenty‌ ‌grows‌ ‌leafy‌ ‌greens‌ ‌at‌ ‌its‌ ‌flagship‌ ‌farm‌ ‌and‌ headquarters‌ ‌in‌ ‌South‌ ‌San‌ ‌Francisco, along with its Research and Development farm in Laramie, Wyoming. The company is currently building the world's highest-output, vertical, indoor farm in Compton, California.‌ ‌ ‌

#‌ ‌#‌ ‌#‌ ‌
Press‌ ‌Contact
Jane‌ ‌Gideon,‌ ‌[email protected]