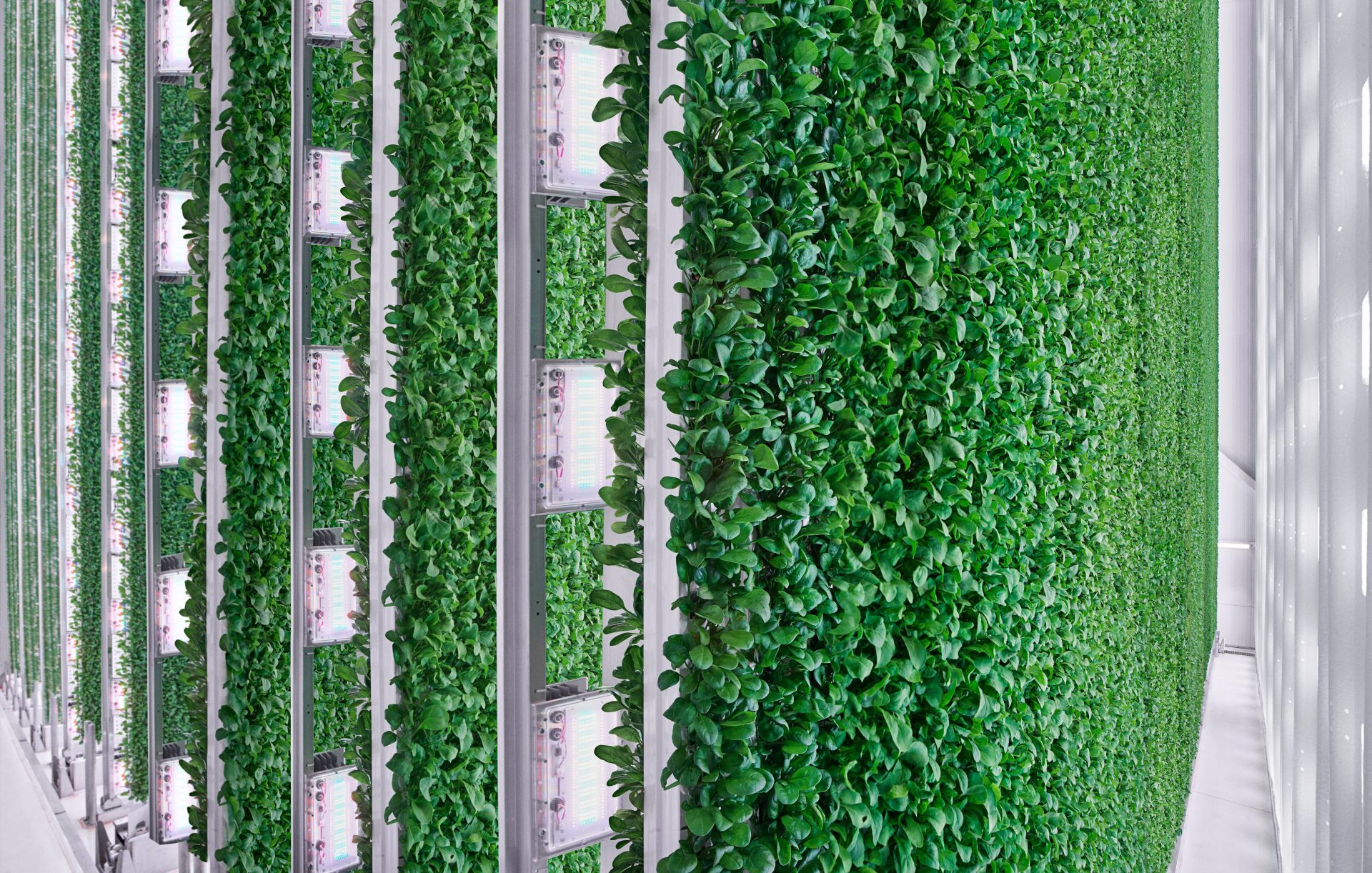 The West Coast's only commercial-scale vertical farm will grow up to 4.5M pounds of produce annually to supply partners including Bristol Farms, Walmart and Whole Foods Market.
COMPTON, Calif., May 18, 2023 – Plenty today announced the opening of the Plenty Compton Farm – the world's most technologically advanced indoor vertical farm, designed to grow up to 4.5 million pounds of leafy greens annually in a single city block in Compton, California. The farm is made possible by dozens of Plenty's patent assets, including the company's unique 3D vertical architecture that drives its industry-leading yield of up to 350 times the yield per acre of a conventional farm.
"After investing nearly a decade into research and development, ​​Plenty has cracked the code on a scalable platform for indoor farming," said Plenty CEO Arama Kukutai. "With Plenty's first commercial farm, we're proving that our uniquely vertical indoor farms can deliver a reliable, year-round supply of fresh produce with positive unit economics. This is the first step in putting indoor-grown produce on a path to becoming a meaningful part of the global food supply, and we're honored to be taking that step in our home state of California with the community of Compton."
Plenty has developed a completely new way to grow plants. While greenhouses and other "vertical" farms grow on flat planes that mimic the field, Plenty grows in 3D – on vertical towers nearly two stories high. That unique architecture makes indoor farming increasingly efficient, growing more produce in less space and easily automating every step of growing from planting to harvest. It's at the heart of how Plenty is driving down the cost of indoor-grown produce to work toward making affordable produce accessible to every community.
"The Plenty Compton Farm is bringing field-scale farming back to Compton and introducing a new generation of our community to careers in agriculture – more than 30% of the farm's hires came from Compton," said Mayor Emma Sharif. "Plenty's farm is a model for how we can increase access to fresh, locally grown food for urban populations, while supporting cities' economic development."
By 2050, demand for food will increase by more than 50%, but, at the current rate of erosion, 90% of all soil will be degraded. At a time when agriculture faces evolving environmental pressures, Plenty has developed a unique method of farming that is insulated from those challenges and uses just a fraction of the land and water of conventional farming. The Plenty Compton Farm has the potential to save millions of gallons of water annually compared to field farming.
"California agriculture is at the forefront of efforts to ensure climate-resilient food systems through the adoption of innovative technologies and practices," said Secretary Karen Ross, California Department of Food and Agriculture. "Plenty's new indoor vertical farm is an example of those efforts and provides an important additional method to grow fresh produce in urban centers, closer to consumers, reducing the draw on our natural resources."
The Plenty Compton Farm is initially growing four varieties of leafy greens: Baby Arugula, Baby Kale, Crispy Lettuce and Curly Baby Spinach, Plenty's newest product that just launched out of Compton. It's among the only vertically grown, pesticide-free spinach available in the world and the result of more than two years of development in Plenty's advanced plant science research center. From designing a new filtration system to analyzing nearly 2 billion data inputs from trials, Plenty perfected the spinach growing environment to consistently produce spinach with a distinct sweet flavor and unique crunch.
Plenty's pesticide-free fresh leafy greens are now available through a variety of channels, including:
At Bristol Farms, Whole Foods Market stores in Northern California and local grocers in the city of Compton
As a new Walmart brand for indoor-grown, pesticide-free produce supplied by Plenty that has begun rolling out in Southern California Walmart stores
As a featured meal ingredient on all Singapore Airlines flights out of Los Angeles International Airport (LAX)
Plenty's retail footprint will continue expanding throughout the state of California and beyond this summer. For the latest availability, please visit www.plenty.ag/store-locator.